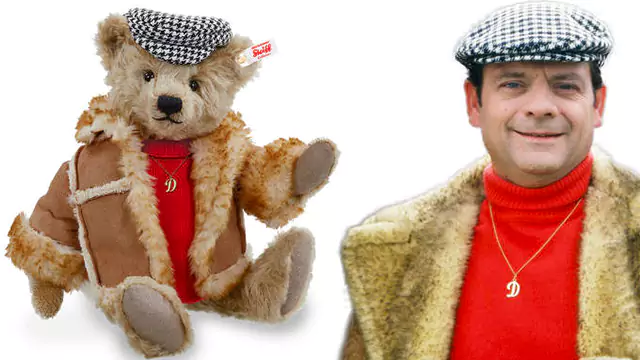 Del Boy Teddy Bear – Steiff Limited Edition
It's certainly not hooky gear – but it comes at quite a price.
Del Boy, one of the greatest comedy characters in British television history appeared on our screens for the first time in September 1981. Soon, we'd all fallen for the charms of this ambitious, fast-talking market trader with his dodgy get-rich-quick schemes!
German soft toy-makers Steiff has released a teddy bear to mark the 40th anniversary of Only Fools And Horses, complete with Del Boy's trademark, flat cap, sheepskin coat. red polo-neck and pendant.
But the Del Boy Teddy Bear- called Del Bear – would be a hard sell down Peckham market, as it has a hefty £275 price tag.
Now, to celebrate 40 years of John Sullivan's "Only Fools and Horses" Steiff present Del Bear, their tribute to this icon of British comedy.
Del Bear's glorious sandy-coloured fur is made from luxurious mohair. He has corresponding beige felt pawpads and an optimistic twinkle in his black button eyes. He looks proper "cushty" in his iconic faux sheepskin jacket, red polo-neck jumper and flat cap. He even wears Del's gold-plated initial 'D' pendant around his neck.
Del Bear is being issued in a strict limited edition of just 3,000 pieces worldwide.