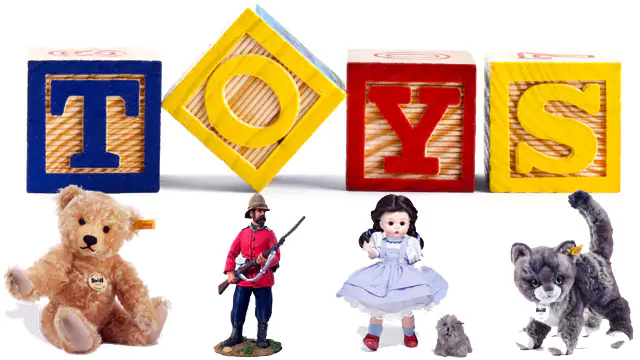 Collectors Gallery and The Toy Store
Your Source For Steiff
Our family business, which began in 1947 as Hobby Center Toys, has been selling Steiff since it's inception. During this time-frame, we have been privileged to introduce to the world of Steiff collectors, over 15 unique limited editions created exclusively for us.
Among these limited editions, we were honored to have the first Steiff Golliwog doll produced since 1917, for The Toy Store's – Festival of Steiff in 1995. The Toy Store hosted Festival of Steiff, the only Steiff sanctioned collectors convention in the United States, was enjoyed by collectors and dealers from around the world for 20 years.
Steiff is the world's premier manufacturer of high-end toys and collectibles. Indeed, Steiff is the only "luxury" toy brand in the marketplace today. Internationally renowned for its exceptional quality, Steiff still utilizes traditional materials and proven manufacturing techniques to create its unique and highly prized products.
Steiff animals are made from mohair, alpaca, cashmere, 100 percent cotton velvet, 100 percent wool felt, and valuable woven plush – a material usually reserved for the high fashion industry. Steiff products are often considered family heirlooms and are passed from generation to generation.
Since 1880, Steiff has been making plush toys and collectibles that set the world standard for quality. The company is perhaps best-known for its bears – Steiff invented the Teddy Bear in 1902. Since the firm was founded by Margarete Steiff in 1880, more than 16,000 different designs for animals have been created. Vintage Steiff pieces are regularly sold on the secondary market for thousands of dollars.
Steiff toys last so long because they are extremely well-made and vigorously tested – surpassing all U.S. and international toy safety standards. Vintage Steiff toys from the company's earlier years have sold at auction for more than $100,000. Collectors treasure Steiff products for their artistry, beauty, and lasting value. Children love their friendly faces, cuddly fur, and realistic designs. When "only the best" is good enough, Steiff is the only choice.
The Toy Store believes that foundress Margarete Steiff said it perfectly over 100 years ago when she stated, "For our children only the best is good enough."