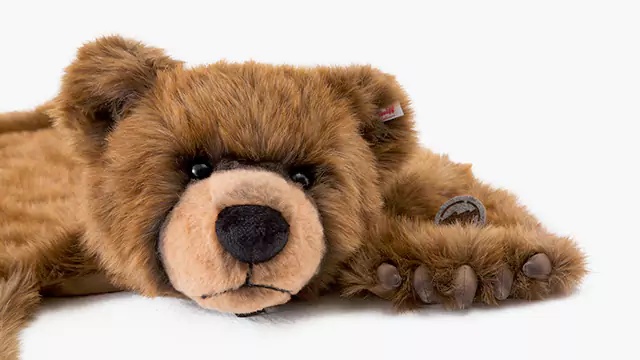 Fragment Design Steiff Teddy Bearskin Rug
A bearskin rug, following collaborations with Japan's Bikkuri Man and Starbucks, fragment design's next off-kilter collaboration may be its most outlandish of the year.
For the winter season, the Japanese label has collaborated with teddy bear artisans Steiff for a special collectible bearskin rug.
One of the German company's signature teddy bears has been stretched out, paws akimbo, into a lighthearted recreation of a bearskin rug.
Complete with a fragment design hangtag, the bear's furry coat makes for a comfy bear-skin floor covering, with the head situated to look up upon being laid flat. The slightly morbid design is undercut by the bear's adorable expression and the quality craft that goes into the leather claws and precise shape.
The collaborative rug hits Dover Street Market outposts and Steiff's web-store on November 23.
Bear-skin Rug History
Bearskin rugs have been created from the pelts of polar, black and grizzly bears for centuries. They were popular in cabins or rural homes in mountainous areas. Over the course of human history, bearskin rugs have made their mark in homes, literature and even the fine arts.
Tanning and Taxidermy
The tanning and taxidermy methods used to create a bear-skin rug have existed for millennia. The practice of creating a quality bear-skin rug was perfected in the 18th century when people mastered the art of tanning the hide and cleaning and stuffing the skull of the bear.
Teddy Roosevelt
U.S. President Teddy Roosevelt was famous for his love of the outdoors and hunting, and one of the centerpieces in his personal study was a large bear-skin rug.