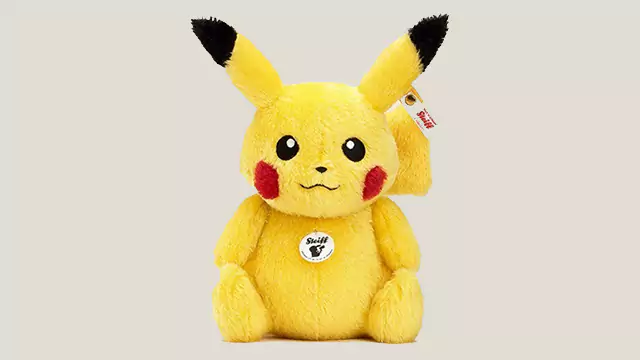 A Collectible Steiff Pikachu
German toy company Steiff has created a high-quality, and very expensive Pikachu toy. This adorable little guy will sell for $367.00.
According to a source on Good Smile Company's English blog, Steiff's Pikachu is made from natural mohair; a silk-life fabric specifically made from the hair of the Angora goat. Due to the notable quality, it's otherwise known as "Diamond Fiber".
Steiff's new item went on pre-order today, with only a thousand units to be sold in Japan. You can pre-order it on the Good Smile Company online store and on Amazon Japan, and it's set to ship in early February.
Known for their quality stuffed animals, Steiff is said to be the inventor of the teddy bear. Last year, the company released a stuffed Godzilla that sold for $500.00.
Nintendo has also recently partnered with Italian fashion house Moschino to creating a line of Mario-adorned clothing and accessories called Super Moschino. On the cheaper side, there's also an exclusive new Pikachu plushie from Build-a-Bear Workshop.
What do you think of this stuffed Pikachu?
Would you spend over $360.00 on a stuffed animal?
Pikachu are a species of Pokémon, fictional creatures that appear in an assortment of video games, animated television shows and movies, trading card games, and comic books licensed by The Pokémon Company. They are yellow rodent-like creatures (large-eared pika) with powerful electrical abilities.