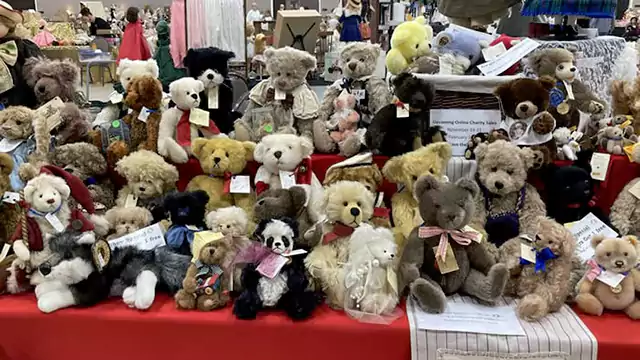 Annual Tampa Teddy Bear Show 2023
When:
Sunday – February 12, 2023 – Tampa Teddy Bear Show Times – 10:00am – 3:00pm
Venue:
We return to Tampa, Florida in 2023
Join us for this newly designed Teddy Bear show.
Light refreshments will be available, with tables in the room to sit and enjoy fellow teddy bear collectors (#ad) while considering your purchases.
Come spend the day with us…..We look forward to seeing you there!
Annual Tampa Teddy Bear Show Exhibitors
Ben & Beth Savino, The Toy Store
Terrie Stong, Good Bears of the World
Cindy Malchoff
Art Rogers
Donna Manthey
Dian Pete
Trish Hansford
Pat Fairbanks
Carol Miller
Cindy McGuire
Jane Woodard
Tetiana Skalozub
Susan McKay
Darlene Allen
Judith Anderson
Priscilla Kershaw
Elizabeth Taylor
Julie Pitts
Diana Watts
Alisa Hubenko
Where:
Holiday Inn Tampa Airport Westshore
700 N. Westshore Boulevard
Tampa, FL 33609
Map Directions:
It's another day with a special designation. Today is National Teddy Bear Day in honor of a stuffed animal that's been popular for well over a century. How did the teddy bear get its name? Was it named for President Theodore Roosevelt, was it named for teddy bear creator Theodore Steiff, or does the word teddy also mean cuddly?
Answer:
In the early 1900's, an American (Morris Michtom) and a German (Richard Steiff) independently came up with designs for a stuffed toy bear at about the same time. They weren't named for Steiff, whose name, as you saw, was Richard, not Theodore. And teddy does not mean cuddly. You may have heard that the teddy bear was named for President Theodore Roosevelt, and that's true.