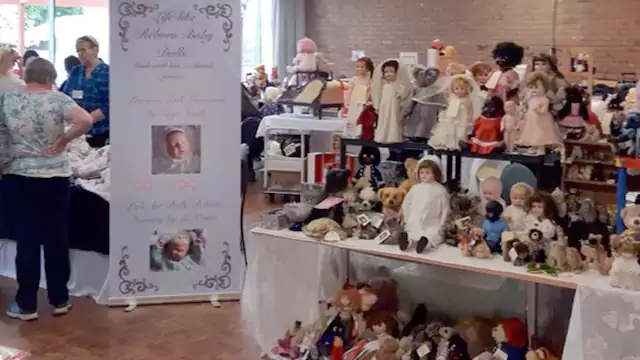 Annual Venice Teddy Bear and Doll Show
When:
Sunday – February 18, 2023 – Venice Teddy Bear and Doll Show  – 10:00 am – 3:00 pm
Venue:
We return to Sarasota, Florida in 2023
Admission at the door: Early bird 8:00 AM – 9:00 AM: $10, After 9:00 AM: FREE.
Over 70 tables of amazing Dolls & Toys and more. Dealers have been saving their best items all year for this event!
Antique Vintage Dolls, Toys, Bisque, Barbie, Tin Toys, Plus much much more!
Raffles
Identification/Valuation
Restringing
Minor Repair
Handicap Accessible
Where:
Veterans of Foreign Wars
Sunshine Post 3233
124 South Tutle Avenue
Sarasota, FL 34237
Map Directions:
Teddy Bear Cleaning Tips
PLEASE DON'T throw your antique teddy bear in the washing machine! Jointed mohair or sheepskin bears should only ever be surface cleaned. Older delicate fabrics will disintegrate in the washing machine. Some older toys are often stuffed with wood wool, which will rot if it gets too wet. Color can also seep from the filling and stain the outer fabric.
For most teddy bear cleaning, we recommend a surface clean.
The best way to do this is with carpet foam or a mild shampoo and warm water solution.
Do not get your toy very wet – just enough water to loosen the dirt. A steam cleaner (#ad) is helpful if you have one.
Apply the foam or suds with a toothbrush and wipe down with a clean cloth to remove dirt. You may need to do this for several hours if the toy is very dirty.
Starting with a soft, wide brush, gently brush out your toy's fur. You can gradually build up to finer wire brushes to fluff up the fur. Make sure to brush very gently to avoid pulling out any fur.