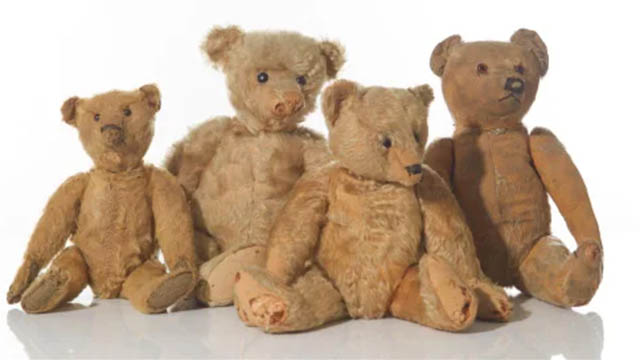 Auction To Sell Off Steiff Teddy Bears
November 29, 2008
Hundreds of teddy bears – some dating back to the early 1900s – have gone under the hammer in Angus.
The collection came from a north-east owner who was down-sizing and needed to get rid of some of the toys.
Most of the 300 bears were made by Steiff – a German company which created the first teddy in 1902.
The earliest bear at the auction was from 1908 and sold for £850. Auctioneer Jonathan Taylor said there was a great deal of interest in the lots.
Mr Taylor, from Taylor's Auction Rooms in Montrose, said: "It's probably the largest collection of teddy bears to be sold in Scotland for quite a number of years.
"You've got some dating back to 1908 and then you've got limited edition bears that have been made in the last five years but there's still quite a big market for them these days.
"Bears that date back to 1910, the 1920s, people are keen to get them because obviously they were owned by children and weren't treated quite as well as you would've liked if you were wanting to keep them for 100 years."
Mr Taylor was particularly impressed with the bear which was made in 1908.
He said: "It always helps if it's in good condition and it's still got the Steiff button because all the Steiff bears had a little button in their ears.
"The ones with the buttons are a lot more collectable because some of the children tried to pull the buttons out."