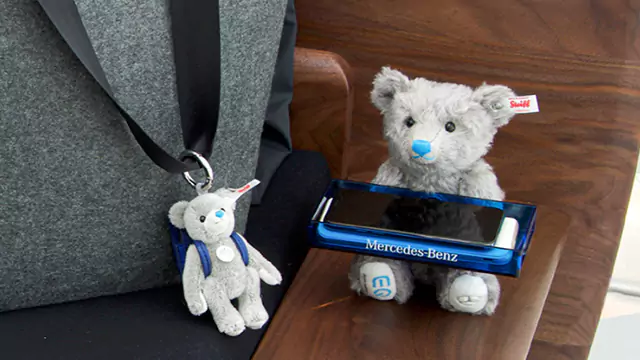 Steiff – Mercedes Benz Bear Phone Charger
In return for Valentine's Day, here are some pinpoint recommended items for men who want to prepare a nice gift for women. The items presented here are arguably particularly pleasing to women who own a Mercedes-Benz.
How about a "Battery Charging Teddy Bear", a collaboration between German maker "Steiff" famous for teddy bears and Mercedes-Benz.
Based on original silver made from Angora goat mohair, which has a beautiful luster and durability, "EQ" brand blue is applied to the nose and mouth, and the EQ Electric Intelligence logo and three-pointed star are applied to the soles of the feet. , The chest has a Steiff original tag.
In addition, Steiff's proof, button-in-ear, is a white tag that is applied only to limited edition items, and the special feeling that it comes with a certificate with a serial number is also a pleasing point.
The specification that a smartphone that supports wireless charging is placed in the wireless battery charger holder held by the teddy bear to charge it seems to be charged by the teddy bear, which is a healing item.
In addition, for girls who like unrivaled teddy bears, why not give them a matching key cover as a gift? This is also a special item with a limited white tag and serial number certificate.
EQ by Mercedes-Benz × Steiff Battery Charging Teddy Bear
Price: 57,037 yen (tax included)
Mohair (Middle material: Polyester)
Size : Seat height 18 cm Battery charger
with serial number certificate
Mobile battery capacity: 8000 mAh, wireless charging Output 5w
EQ by Mercedes-Benz × Steiff Key cover Teddy bear
Price: 24,445 yen (tax included)
Material: Body mohair (middle material: polyester), key cover Synthetic leather
Color: White, Blue
Size: Overall length 11 cm (excluding ring part)
With certificate with serial number