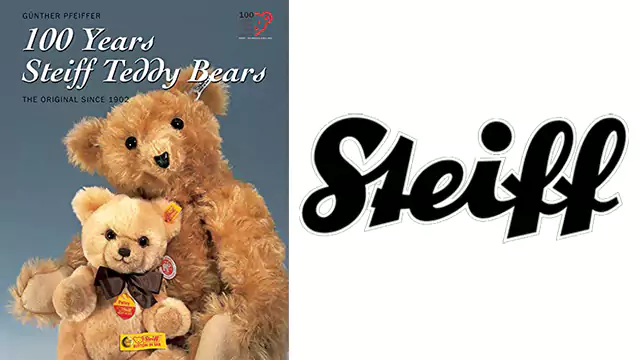 Gunther Pfeiffer – 100 Years Steiff Teddy Bears
100 Years Steiff Teddy Bears is the ideal Teddy Bear book for the Steiff collector and enthusiast.
With many new creations and innovative products, Margarete Steiff GmbH has managed to expand and consolidate its position in the collector's market without losing sight of its roots as being one of the most famous soft toy manufacturers to date. Margarete Steiff's oft-cited phrase, "Only the best is good enough for children" is as valid today as it was 100 years ago, which is probably why the company is as successful as it is. More than 8,500 different Steiff articles are currently available and every single one can be tracked by the clever Steiff identification markings such as the famous button, labels and chest tags.
Invented in 1902 and shown for the first time in March 1903 at the Leipzig Toy Fair, Germany, the Steiff Teddy Bear soon became a best-seller. On this special occasion of its 100th anniversary, the Steiff Company has commissioned the only official illustrated Steiff Teddy Bear centenary book and opened the archives to release previously unpublished photographs and other historic material.
Pfeiffer's book is a wonderfully illustrated and detailed history of the German Steiff company, maker of the most sought-after bears. Historic photos, dating from the founding of Margarete Steiff GmbH in 1880 to the present, provide an overview of the company's products and methods of construction. Current values are not given. Teddy's World, on the other hand, 100 Years Steiff Teddy Bears is a fantasy picture book with large color photographs of teddies posed in a variety of action and landscape settings.
100 Years Steiff Teddy Bears – Product Details
ASIN : B01FKUB5BM
Publisher : Heel Verlag Gmbh (January 1, 1676)
Best Sellers Rank: #2,885,448 in Books (See Top 100 in Books)
Customer Reviews: 4.8 out of 5 stars 10 ratings