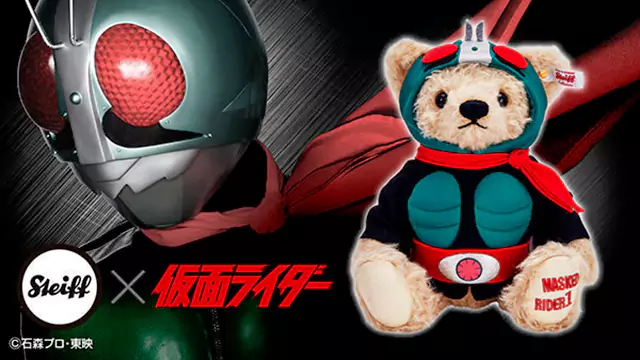 Kamen Rider – aka Masked Rider – Steiff Bear
Bandai's official online store Premium Bandai starts accepting pre-orders for teddy bears inspired by Kamen Rider, the first main hero in Toei's long-running Kamen Rider/Masked Rider tokusatsu franchise, today at 13:00 (JST). As with the previously-introduced Danboard (Yotsuba&!) and Tony Chopper (One Piece), the handmade item is produced by German-based plush toy company Steiff.
The 1,500 piece limited edition item has a tag with the company's "Button in Ear" trademark, a serial number and a production year on its left ear.  The price is 43,200 yen (about $379.00 US dollars), and its scheduled shipping date is February 2018. Pre-orders will end when quantities have been reached.
About Masked Rider
The Kamen Rider Series (仮面ライダーシリーズ Kamen Raidā Shirīzu, translated as Masked Rider Series) is a franchise of manga and tokusatsu television programs and films created by manga artist Shotaro Ishinomori. The various Kamen media generally feature a motorcycle-riding superhero with a varying motif who fights supervillains often referred to as kaijin (怪人). The franchise began in 1971 with the Masked Rider television series which followed college student Takeshi Hongo and his quest to defeat the world-conquering Shocker organization. Over the years, the popularity of the franchise has grown and the original series has spawned many television and theatrical sequels. The cultural impact of the series in Japan resulted in Akimasa Nakamura naming two minor planets in honor of the series: 12408 Fujioka, after actor Hiroshi Fujioka, known for his portrayal of Masked Rider, and 12796 Kamenrider, after the series, itself.