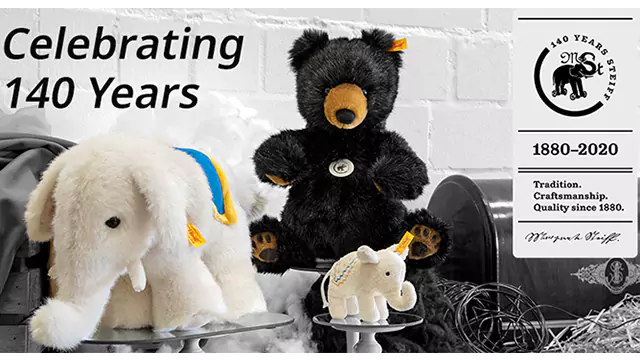 Steiff Anniversary Celebrates 140 Years
The Steiff Anniversary marks 140 years with a new collection of plush, collectibles, and baby products at Toy Fair New York.
The Steiff North America collection will make its debut alongside "some awe-inspiring studio animals" when the company hosts a 140th anniversary party at its booth on Saturday, Feb. 22. Party guests will receive a sweet treat and gift while supplies last, and will have a chance to win a 140th Anniversary Paddy Teddy Bear and Mohair Elephant along with Steiff's Soft Cuddly Friends bear, Jimmy, who serves as the unofficial Steiff mascot.
"It all started when our founder, Margarete Steiff, created the first plush toy: an elephant," says Jim Pitocco, president of Steiff USA. "What began as a small company led by a savvy businesswoman ahead of her time has become the premier brand gift-givers continue to trust for special occasions and play."
Last year, Steiff unveiled its Soft Cuddy Friends line, which expands this year with additional plush animals for all ages. Additionally, Steiff will offer a range of special edition products to commemorate the Steiff anniversary.
"We are incredibly proud of our newest collection," Pitocco says. "Steiff has always devoted itself to making the very best soft toys for children while embracing innovation, imagination, and perfection. As Margarete Steiff herself said: 'For children, only the best is good enough.'"
Steiff will showcase its full range of new products in booth No. 1983 at Toy Fair New York, taking place from Feb. 22-25 at the Jacob K. Javits Center.