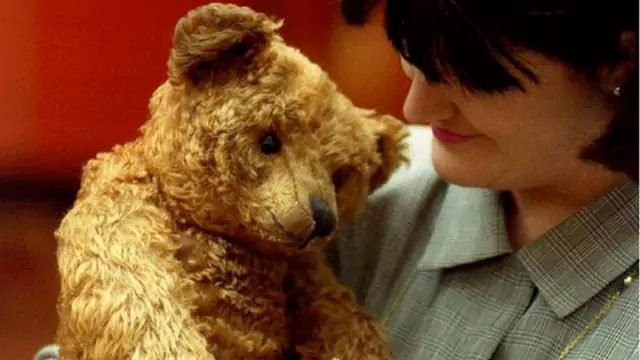 Steiff Teddy Girl – Teddy Bear
In terms of collectability, Teddy Girl has it all. Her pedigree was impeccable. She was made by Steiff in 1904, just two years after the pioneering German manufacturer made their first jointed bear. Around the same time, the Ideal Toy Company of America made their first bears, calling them Teddy after President Theodore Roosevelt, who had famously refused to shoot a bear cub on a hunting trip.
"The bear has commanded a special place in folklore, myth, fairy tale and legend … today, in the form of the teddy bear, it is grasped in physical compensation and clung to for security," wrote Col Bob Henderson, a big tough military man whose constant companion was his teddy.
His own "Teddy Girl" traveled with him throughout his life even, according to the Guinness Book of Records, landing with him on the D-Day beaches in 1944. Teddy Girl outlived her owner and went on to sell at Christie's of London in 1994 for an unprecedented £110,000. She was bought by the Japanese businessman Yoshihiro Sekiguchi, founder of the Izu Teddy Bear Museum in Ito, Japan where she now lives.
"The early bears were quite like real bears," says Daniel Agnew, a specialist in antique teddy bears. "They had longer noses and a hump, and their front legs were long so that you could place them on all fours." Gradually, the teddy bear became more humanized. "After the Second World War there was a shortage of materials, so the hump disappeared and the nose and arms became shorter."
Although the bears had German and American origins, it was the British that took them to heart. Between 1904 and 1915 the teddy bear was Britain's best selling toy, its popularity carried deep into the 20th century by books like Winnie-the-Pooh (1926), the comic strip Rupert Bear (from 1920), and A Bear Called Paddington (1958).
The small stuffed bear that inspired AA Milne to write Winnie-the-Pooh is now in New York Public Library. "I've been campaigning to have him brought back to the UK," says Agnew. "He's like the teddy bear collectors' version of the Elgin Marbles."
The first teddy bear auction was held at Sotheby's in 1983 and Christie's hosted bear sales twice a year between 1993 and 2007. Since then, the market has been relatively quiet, but with a new antique and vintage toy fair booked for London's Olympia this November, there are signs of a revival. "One of the rarest Steiff bears might sell for £60,000 to £80,000," says Agnew (that's around €77,000 to €102,000).
He's keeping an eye out for a series of colored bears, made as samples for Harrods around 1910.
"A red one and a blue one have appeared, but there might be a green or a purple one out there. That's the kind of bear that could set the new world record."
In general, the most collectible bears date from before the Second World War and are made of natural fibre, typically mohair, with jointed arms and legs and swivel heads. "There was a big shift in bear-making during the First World War," says Agnew. "Most pre-1914 bears were German, but the British didn't want to buy German toys during the war and loads of British manufacturers popped up." These early British bears are difficult to identify. They were often copies of German bears, some of the factories only made short runs and nobody thought of labeling them.
Bears were made in Ireland from 1938 when the Gaeltacht Services Division of the Department of Lands established a soft toy factory, the Elly Bay Company in Mayo. The teddy bears were labelled Erris Toys until 1953, when the name was changed to Tara Toys. In the 40s and 50s, bears were also made in Belfast by the British company Pedigree.
Irish teddy bears won't make you rich, but they are certainly collectible. If the label is missing you can identify Erris Tara bears by their distinctive triangular nose and mouth stitching, and their amber and black glass eyes. The Teddy Bear Museum in the UK has a golden mohair bear (1953) from Erris Tara wearing a lace collar and fitted with a pull-string music box that plays a lullaby for £175 (€225). In general, Irish bears made in the 40s and 50s sell for between €60 and €120.
Early German bears by companies like Steiff and Bing are probably the most valuable, but buyers should beware of fakes. Any bear advertised as a "1910 Steiff" with a price tag of less than €100 is almost certainly a modern reproduction. The genuine article would probably not cost less than €500.
Surprisingly, many bears made in the 20th century survive in good condition. They belong to a time when children had fewer toys and took better care of them than they do now. While condition is important, a certain amount of wear and tear can be acceptable as some collectors prefer their bears to have experienced a little love. If you have photographs of the bear with its early owners, this can add hugely to the price.
"Teddy bear collectors are a sentimental lot," says Agnew. "A bear is often the first toy that you're ever given and the last toy that you'll keep. I have clients who bring their bears to the nursing home with them and make provisions for them in their will."