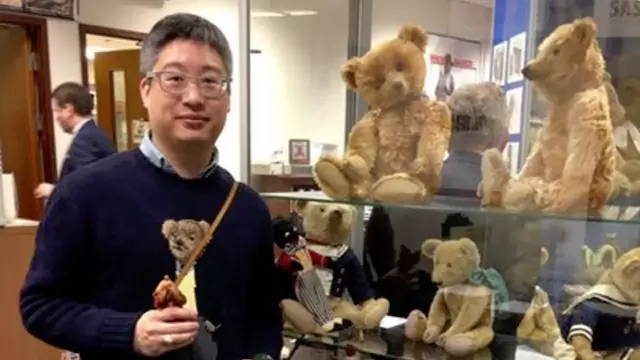 Steiff Collector – Jena Pang and His Bears
A Steiff collector has sold his collection of antique teddy bears for more than £95,000 at auction.
A total of 95 bears, including 32 made by Steiff, were sold by Special Auction Services in Newbury for Steiff collector Jena Pang.
Mr Pang has been a collector for 12 years but sold them ahead of a move to Hong Kong.
The bears sold for £95,827, with one of them fetching £8,260. Seven lots did not sell.
Mr Pang, a pianist and violinist said: "The auction was very pleasing.
"It was definitely sad to see the bears go, they were a big part of my life."
Daniel Agnew from Special Auction Services said: "These are the best examples you are likely to see.
"They are all over 100 years old and in exceptional quality, they look like they were made yesterday."
In Other Steiff Collector News
When Ralph Lauren announced its "Bring It Back" program as part of its Ralph Lauren Vintage launch last year, the label allowed fans to vote on which Polo Bear mascots would adorn a limited-edition sweater. The Polo Bear was a collectible Steiff teddy bear decked out in a Ralph Lauren rig, given to the designer as a birthday present during the company's early years.
Lauren thought the bear was so cool that he made them available to customers. Eventually, he got the idea to put it on sweaters, and in 1991 the Polo Bear sweater debuted in the line. Since then, they've become one of the company's most popular (albeit unofficial) mascots.
The "Bring It Back" edition of the Polo Bear sweater drops tomorrow. There will be one version for men and another for women.