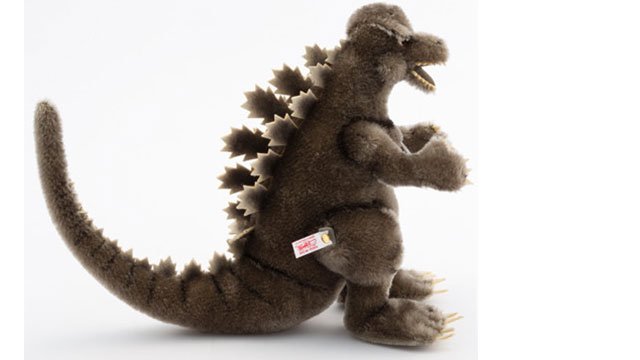 Steiff Limited Edition Godzilla
German plush company Steiff, whose teddy bears can range from $50 to $1,000, is applying its handiwork and craftsmanship to this year's cuddliest creature — Godzilla.
Germany-based teddy bear maker Margarete Steiff GmbH began taking orders for a limited edition of stuffed Godzilla dolls to celebrate the 60th year since the monster's first movie opened in Japan.
Created as a collaboration between Steiff and TOHO to celebrate the 60th anniversary of Godzilla, the 50 cm (about 19.7 in) plush is fuzzy and adorable, and filled with details like spikes, teeth, and claws. The quality does come at a high price, though—the plush rings up at 51,300 yen (about US$502.00) after tax.
While there have been more expensive Godzilla toys created for the occasion–including a $1.47 million golden statue–the stuffed doll still carries a hefty price tag of $502.00).
"This product is an interior ornament item intended for use by adults," MS1880 Co, which manages Steiff's Japan operations, says on its website. The company also advises that families with children should keep the doll under adult supervision.
Lest you think that the price tag will deter serious collectors, apparently the first wave of pre-orders have already sold out. However, Steiff Japan is now taking pre-orders for the next batch of toys, which will ship in December. In all, 1,954 plush will be produced, a number that pays homage to Godzilla's birth year.
Each stuffed doll will be manufactured at the doll maker's factory at Giengen in Southern Germany, according to a spokeswoman at MS1880 Co. The dolls will be 50 centimeters tall and will be made of mohair fabric. Fangs will be made of felt cloth.
The stuffed Godzilla will only be available in Japan. "We can't disclose the number of orders, but fans have been making reservations already" since it became available online on July 25, the spokeswoman said.