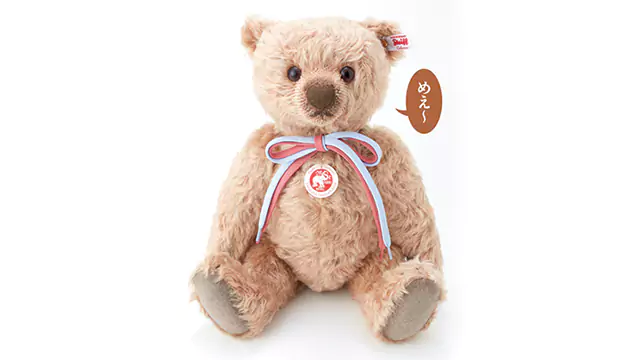 Duralumin Inspired Bear By Steiff
Duralumin Hits Japanese stores tomorrow.
German-based plush toy company Steiff is producing teddy bears inspired by Duralumin, which appears in Kiyohiko Azuma's Yotsuba&! manga series as the protagonist Yotsuba's friend teddy bear. The original handmade item is based on newly drawn sketches by the manga author himself, who also supervises the project. It can also make the sounds (or "talk") with the growler inside when shaken as portrayed in the manga.
Movic will start accepting orders for the $370.00 limited edition items on December 01. Purchasers on Movic's online store (not on Steiff's store) will also receive a colored paper with the author's handwritten autograph.
The manga's long-awaited 13th volume will be finally released in Japan tomorrow, November 27. The
last 12th volume was released two and half years ago, March 2013.
Manga Art form
Manga are comics or graphic novels originating from Japan. Most manga conform to a style developed in Japan in the late 19th century, though the art form has a long prehistory in earlier Japanese art. The term manga is used in Japan to refer to both comics and cartooning.
The history of manga is said to originate from scrolls dating back to the 12th century, and it is believed they represent the basis for the right-to-left reading style. The word itself first came into common usage in 1798, with the publication of works such as Santō Kyōden's picturebook Shiji no yukikai (1798), and in the early 19th century with such works as Aikawa Minwa's Manga hyakujo (1814) and the Hokusai Manga books (1814–1834). Adam L. Kern has suggested that kibyoshi, picture books from the late 18th century, may have been the world's first comic books. These graphical narratives share with modern manga humorous, satirical, and romantic themes. Some works were mass-produced as serials using woodblock printing.