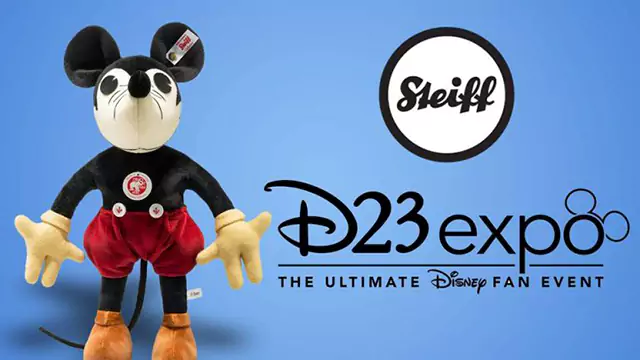 Steiff Vintage Disney Mickey Mouse
This year Steiff is attending D23 (Disney Expo) for the first time and they brought with them some beautiful vintage pieces.
Steiff is a toy company founded in 1880. Their products are "luxury" quality, with pieces being hand sewn by artisans in Giengen, Germany.
They did not disappoint. I caught a YouTube video by Mouse Planet that has video of the beautiful pieces (5:04 mark.)
They have a "Vintage" set of Mickey and Minnie pieces. There were only 23 sets made and they cost $750. But they are beautiful! The detail and knowing they are hand sewn. These are fantastic.
They also had a musical Winnie the Pooh piece. Again, only 23 were made (someone has one on eBay for $2,400) – Steiff on eBay
Then they had these amazing Vintage / Archival Jungle Book pieces from the 1960's. They had the original patterns on display too!
Vintage vs Antique Steiff
The strict definition of an antique is something that is more than 100 years old. Therefore, to qualify as a true antique, a teddy must have been made no later than 1915. The first teddy bear was created by Steiff, the famous German manufacturer, in 1902 but the new toy didn't achieve widespread success until 1905 when the design was perfected. Just one year later, 400,000 bears had been sold.
For most collectors of old bears, however, it's not so much a question of whether a bear is antique or vintage as whether it is pre or post WWII. While there are many devoted collectors of post-WWII teds, the strongest interest lies in examples produced before 1939 and this is where the highest prices are paid.