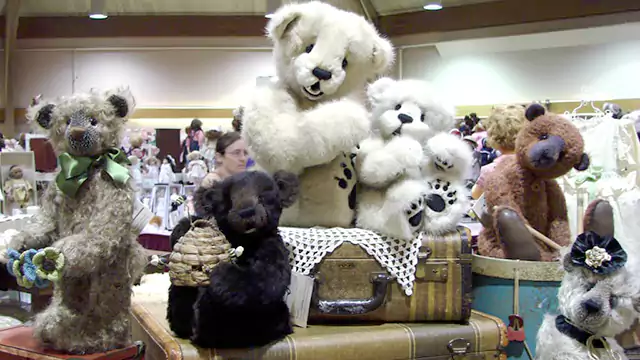 Doll and Teddy Bear Show – Naperville 2023
When:
Sunday – January 29, 2023 – Doll and Teddy Bear Show Times – 9:30am – 3:00pm
Venue:
40 – 45 Doll and Teddy Bear Dealers – Treat yourself to a Special Doll and Teddy Bear Show event every January at the Naperville Doll Show.
The Premier Doll and Teddy Bear Event in the Chicago Suburbs catering to Doll and Teddy Bear collectors for over 25 years. 10,000 Square Feet of dolls and doll related accessories.
Antique
Vintage
Modern
Collectible
Barbie
Steiff Teddy Bears (#ad)
Lenci
Madame Alexander
Onsite Doll Restringing
Doll Appraisals
Door Prizes
Admission $5.00 – 12 & Under Free
Early Bird Admission – 8:00am $15.00
Where:
Marriott Hotel – Grand Ballroom
1801 North Naper Blvd.
Naperville, IL 60563
Map Directions:
Teddy Bear Tid-Bits
Today, one family claims to own more than 5,000 teddy bears, though they haven't officially counted them all. The Volpps' collection includes a teddy bear that they purchased at auction for $88,000.
The largest collection of teddy bears is 20,367 items and was achieved by Istvánné Arnóczki (Hungary) in Harsány, Hungary, on 27 April 2019. As a child, Arnóczki grew up in poverty and never owned a teddy bear.
Her dream was to have one that she could cuddle at night. She bought her first ever teddy bear in 1978, when she was in her twenties, and never stopped buying more!
The largest teddy bear measures 19.41 m (63 ft 8 in) in length, and was constructed by Municipio de Xonacatlán, Ideas por México and Agrupación de Productores de Peluche (all Mexico), in Estado de México, on 28 April 2019. The bear was displayed at the local stadium in the city of Xonacatlán, and was made with the same materials of a commercial available teddy bear, including details such as tiara, dress, eyes and nose.