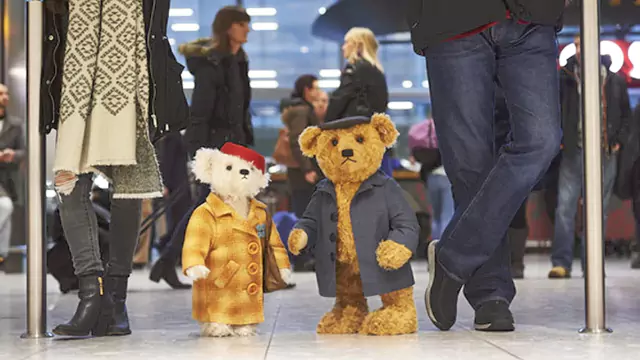 Christmas Bears Doris and Edward Land at Heathrow
Following the hugely successful Christmas film which celebrates the gift of coming home, Doris and Edward Bair arrived at Heathrow on Dec. 20, to be greeted by their family, during the airport's biggest week for emotional Christmas reunions.
The bears traveled from Munich to Heathrow on a British Airways flight into Terminal 5 to be met by warm hugs and smiling faces in arrivals. During their journey they were given the star treatment with a surprise upgrade and complimentary glass of champagne during their flight. The Heathrow team also ensured there was plenty of mistletoe on hand for festive kisses between the loving couple.
Doris and Edward have been hand crafted through the creative magic of the Steiff team in Germany. At around 40cm tall, the couple have been lovingly recreated from the film with Doris wearing her distinctive orange coat and Edward presenting handsomely in his favorite tweed flat cap.
The Bair's film debut which captured the magic of an airport reunion, has been celebrated the world over this Christmas with the heart-warming couple winning fans right across Heathrow's route network and as far away as Japan and Australia.
Heathrow's Chief Executive John Holland-Kaye, commented, "I'm delighted to be welcoming Doris and Edward home today. With more than 100 million views from across the globe, this wonderful couple have touched the hearts of so many people around the world this Christmas. It is a joy to see them come through the doors to arrivals and be given a special greeting from the Heathrow family."
British Airways' Director of Customer Experience Troy Warfield, said, "Our cabin crew pulled out all the stops today to give Doris and Edward a fantastic British Airways welcome, allowing them to relax on their flight with us from Munich to Heathrow."
Following the success of the film, Heathrow approached Steiff to bring their hero and heroine to life. Daniel Barth, CEO of Steiff said 'With a Christmas deadline of just two weeks, our hugely talented teddy bear makers and seamstresses were able to hand-stitch perfect replicas of Mr and Mrs Bair, complete with identical hats, coats and Steiff's iconic 'Button in ear' tag.