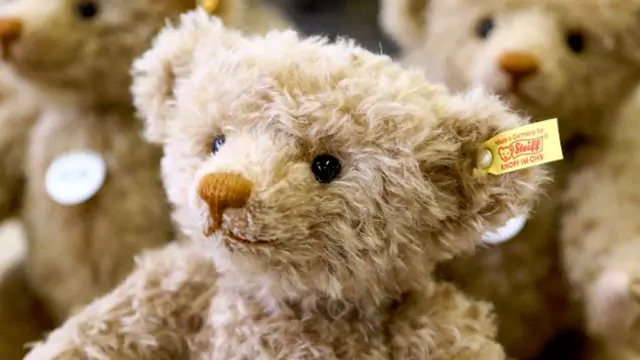 Christmas Is A Busy Time At Steiff
By Becky Evans
November 25, 2012
They are known for producing the most collectable bears in the world.
And 110 years after the birth of the first Steiff teddy bear, the factory is as busy as ever producing fine toys in time for Christmas.
The Steiff factory is still based in Giengen an der Brenz, Germany – the birthplace of its founder Margarete Steiff – and with teddy bears still among the most popular toys, the company is hoping for a strong Christmas season.
Workers still craft each bear by hand – and give the cute creations a hand-stitched mouth and nose that gives them a unique expression.
They are also individually stuffed and stitched together using materials such as mohair, velvet and felt.
And like Santa's elves, workers at the factory have also been busy assembling some special toys in time for the festive season.
Among the Christmas creations are a giant polar bear, reindeer and a bear dressed in its own red Santa costume.
Steiff bears are among the most sought-after and pricey bears in the world.
According to the Guinness Book of Records, the most expensive teddy bear ever sold was the Steiff Louis Vuitton bear, which was sold in Monaco in 2000 for £125,831.
The company was founded by seamstress Margarete Steiff in 1880. Margarete, who was disabled after contracting polio as a baby, began by making stuffed animals. It then grew under the stewardship of her nephew Richard Steiff, who is credited with designing the company's first toy bear.
It was born in 1902 and was the first in the world to have joined arms and legs and a year later took the world by storm after an American businessman placed an initial order of 3,000.
In 1904 the Steiff 'button in ear' trademark was created. It is still used today and comes in three varieties.
The yellow and red tag denotes the original collection, while limited edition bears sport the yellow and red button.
Replica bears wear a white and red label and shows the toy was produced exactly as their historic role models were.
Steiff Trivia Time Line
1877 – Seamstress Margarete Steiff opens a ready-to-wear felt clothing business
1879 – Begins selling small elephants as pin cushions but quickly realizes they are being used as toys and begins to design other stuffed animals
1893 – The toys were showcased for the first time at Leipzig Toy Fair
1902 – The Steiff teddy bear is born. It was designed by Margarete's nephew Richard
1904 – The company's trademark 'button in ear' is developed
1907 – Almost one million bears were produced by 400 workers
1947 – After suffering difficult trading conditions during the two world wars, Steiff goes from strength to strength and by 1947 employs 1,000 people
1980 – The Margarete Steiff Museum opens
1992 – The Steiff Club was founded as an organization for enthusiasts of the bear
2005 – Steiff celebrates its 125th anniversary. It created more than 20,000 different animals during that period.