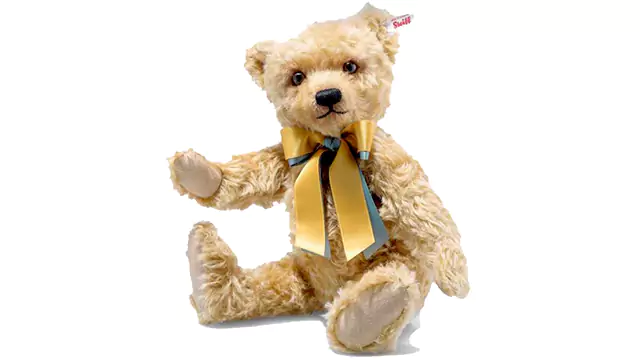 Steiff Limited Edition Up For Grabs
One lucky reader will get their hands on an limited edition Steiff Teddy Bear considered to be the "Jewel in the Crown" of Steiff's 2020 collection
Jewish News and steiffteddybears.co.uk have teamed up to offer one lucky reader a Steiff 2020 British Collectors' Bear worth £179!
The limited edition bear comprising 2,000 pieces is considered the 'Jewel in the Crown' of Steiff's 2020 collection.
Iconic toy manufacturer Steiff created the world's first teddy bear in 1902. Today, it is a heritage brand collected worldwide. Steiff's original antique bears sell for thousands at auction.
The company's creations are known for being delicately handcrafted with the famous "button" in the ear, a feature added in 1904 to prevent counterfeits.
Year-in, year-out, Steiff is one of the most popular gifts for special occasions such as births, anniversaries and Hanukkah. Top sellers at www.steiffteddybears.co.uk include their nearly life-size animals and characters from the likes of Disney, Peter Rabbit, Rupert and Paddington.
This classic bear's design is based on the original Steiff bears from early 1900s. It's made from mohair, is five-way jointed – its head, arms and legs move – has a hand-embroidered nose and the famous Steiff growler in its tummy.
Like all limited edition Steiff bears this bear comes complete with a numbered certificate of authenticity and Steiff gift box, with a white label and, of course, the famous Steiff gold-plated button in the ear.
Terms and Conditions: One winner will receive a a Steiff 2020 British Collectors' Bear worth £179! Prize is as stated, not transferable, not refundable and cannot be used in conjunction with any other offer or exchanged in whole or in part for cash. By supplying your email address, you agree to receive marketing information from the JN Media Group or any of its affiliates and carefully selected third parties. The promotion excludes employees of Jewish News and the promoter, their immediate families, their agents or anyone professionally connected to the relevant promotion. Proof of eligibility must be provided on request. For full Ts and Cs, see jewishnews.co.uk. Closing date: 27 November 2020