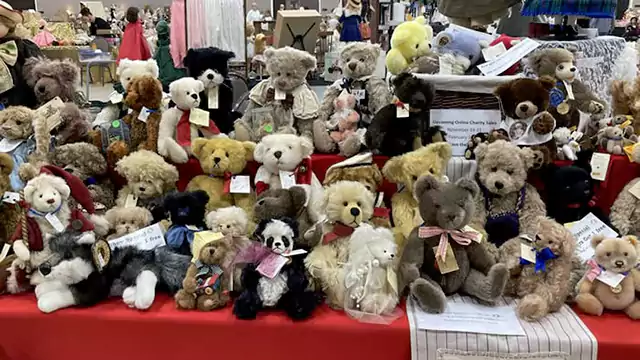 Annual Toledo Teddy Bear and Doll Show 2023
When:
Saturday – April 29, 2023 – Toledo Teddy Bear and Doll Show Times – 10:00am – 4:00pm
Venue:
We return to to the annual Toledo, Ohio Teddy Bear and Doll Show…..for 2023.
Join us for this newly designed Doll and Teddy Bear show.
Enjoy the fellowship of other teddy bear collectors (#ad) while considering your purchases.
Come spend the day with us…..We look forward to seeing you there!
We PAY your admission fee with a purchase of $50.00 or more!
Where:
Total Sports Complex
10020 S Compass Dr
Rossford, OH 43480
Map Directions:
Steiff Teddy Bear Trivia Question:
It's another day with a special designation.  National Teddy Bear Day in honor of a stuffed animal that's been popular for well over a century. How did the teddy bear get its name? Was it named for President Theodore Roosevelt, was it named for TeddyBear (#ad) creator Theodore Steiff, or does the word teddy also mean cuddly?
Answer:
In the early 1900's, an American (Morris Michtom) and a German (Richard Steiff) independently came up with designs for a stuffed toy bear at about the same time. They weren't named for Steiff, whose name, as you saw, was Richard, not Theodore. And teddy does not mean cuddly. You may have heard that the teddy bear was named for President Theodore Roosevelt, and that's true.