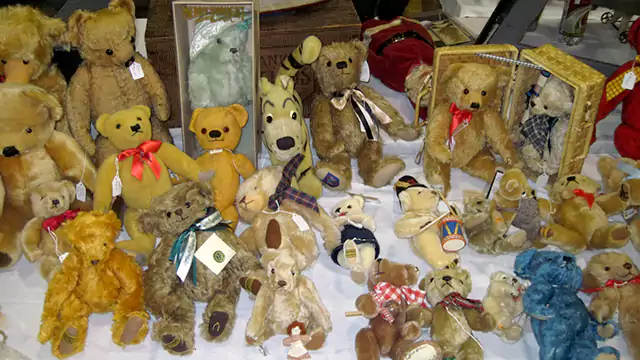 Teddy Bears – Alexander Doll and Bear Show
When:
Saturday – April 22, 2023 – 09:00 am – 03:00 pm
Venue:
We return to Alexander, New York in 2023 for this fabulous doll and teddy bear show. Featuring antique, collectible, modern dolls, teddy bears, toys, doll accessories, with a special feature sale of Artist Dianne Dengel dolls, prints & cards. Door Prizes, Free gift bags for first 10 Children under 12 with adult Handicap Accessible, Food for Purchase On Site.
Admission at the Door: Adults: $5.00; Children under 12: FREE (We will reimburse you for your admission fee with the purchase of $50.00 or more.
Parking: Free
Where:
Alexander Fireman Recreation Hall
10708 RT 98
Alexander, New York 14005
Map Directions:
Doll Cleaning Tips
Cautions for Plastic Dolls:
Avoid using household spray cleaners or degreasers.
Check product labels for vinyl or plastic compatibility.
Be cautious with painted faces and nails, especially on vintage dolls.
Routine Cleaning:
Use mild soap and water solution for unpainted body parts.
Clean with cotton balls, rinse, and dry with a soft cloth.
For painted areas, use a cotton swab soaked in clean water.
Gently clean face and nails, avoiding pressure on paint.
Tough Cleaning Jobs:
Use orange-based natural cleaning products (#ad) for vinyl and plastic.
Test an inconspicuous area before cleaning the entire body.
Be cautious with painted areas; use clean water and a light touch.