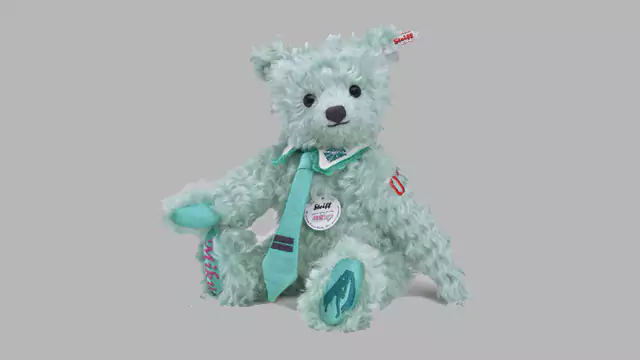 Hatsune Miku – Steiff Teddy Bear
World-renowned plush maker Steiff is making a limited run of Hatsune Miku teddy bears, but those looking forward to twin-tails will have to settle for other details. The bear has Miku's trademark teal coloration, tie and collar, her name on one paw, a silhouette of Miku on the other, and "01" embroidered onto the left shoulder.
The bear is made from a soft mohair, and has movable joints.
Only 1,500 will be made, but each one comes at a steep, but Steiff appropriate price US $322.00. Pre-orders will begin March 9, and can be placed from the Good Smile Company online shop (beginning March 9), at the Steiff shop in the New Chitose Airport, and the Steiff shop in Aoyama.
About Hatsune Miku
She is a singing voice synthesizer featured in over 100,000 songs released worldwide.
The name means "The first Sound from the Future"
Hatsune Miku (Japanese: 初音ミク), sometimes called Miku Hatsune, is a Vocaloid software voicebank developed by Crypton Future Media and its official moe anthropomorph, a 16-year-old girl with long, turquoise twintails. She uses Yamaha Corporation's Vocaloid 2, Vocaloid 3, and Vocaloid 4 singing synthesizing technologies.
Trivia
Over 100,000 released songs, 170,000 uploaded YouTube videos, 1,000,000 created artworks
Over 900,000 fans on Facebook
Performing sold-out 3D concerts worldwide with performances in LA, Taipei, Hong Kong, Singapore, Tokyo
Corporate collaborations with SEGA, Toyota USA, Google and more