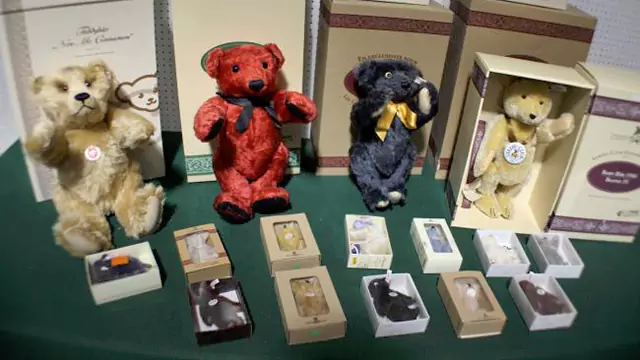 Steiff Bears To Go Under The Gavel
The Steiff bears are part of a collection of modern Teddy Bears set to be sold by Lawrences Auctioneers of Crewkerne.
The group was assembled by a collector in the Taunton area over the last 20 years and will include more than 30 boxed Steiff Teddies.
Various miniature Steiff Teddy Bears purchased through the Collectors Club, are included and so are other Steiff Bears – including some in their original bags.
Lawrences auctioneer, Simon Jones, said: "This is a delightful collection of Steiff Teds. All are good quality and they are always sought after in our sales.
"Collectors seem to love them. There is no better name for teddy collectors than Steiff."
Estimates range from £50 to £150 and they will be sold in individual lots and group lots.
The bears were issued in named editions and include 'Teddy Carmen', 'Queen Mother Bear', 'Tricolore Bear', 'Holland Bear', 'Eiffel Tower Bear' (with its own miniature model of the famous tower), 'Mr. Cinnamon' and many more.
Most are in very good condition and come with their original manufacturer's certificates and boxes, a spokesman for Lawrences added.
The collection will be sold in the Lawrences May Collectors Sale, on Friday May 17, 2019.
For more information, contact Simon Jones on 01460 73041