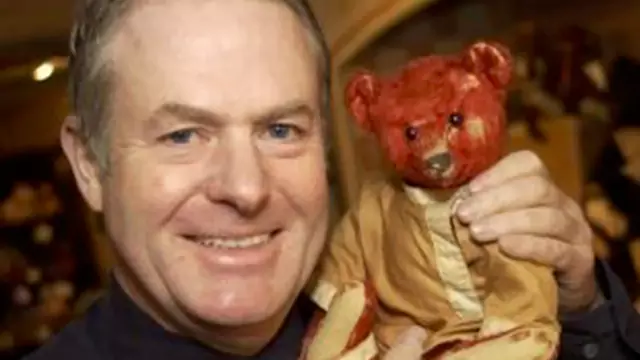 Alonzo Steiff Bear – Owner Ian Pout
October 06, 2008
Oxfordshire's most valuable teddy bear is going on a special journey home to Moscow for an exhibition highlighting his links with the country's murdered Royal family.
Alfonzo, who was given to the Russian Princess Xenia in 1908 by her father Grand Duke George Mikhailovich Romanov, was bought for £12,000 by Ian Pout, the owner of Teddy Bears of Witney, in 1989.
The historic red bear — made by German company Steiff and now insured for more than £100,000 — will be on show from October 27 to 30 at the Echelle Gallery in the Russian capital.
Alfonzo first came to Britain in 1914, when his owner and her mother were visiting the British Royal Family.
They stayed in London after the outbreak of the First World War.
The princess later moved to the US, where she lived for the rest of her life. Her daughter sold Alfonzo at a Christie's auction and Mr Pout bought it.
Mr Pout said: "I will fly to Moscow with Alfonzo — he's far too precious to travel alone.
"In recent years, there has been a revival of interest in the Romanovs among Russian people and I think there will be a great deal of interest in Alfonzo at the exhibition.
"Many people have said to me 'if only he could talk' because he would have some fascinating stories to tell about the Romanovs."
Mr Pout said that Alfonzo's story was little known in Russia. He said: "When I asked the exhibition organizers in Moscow why I should attend, they said it would considerably increase Alfonzo's value."
In May, more than 600 teddy bear enthusiasts attended a party at the Langdale Hall in Witney to celebrate Alfonzo's cent- enary.
Two thousand centenary replicas of the 13-inch bear were made, costing £295, and more than half of them have been sold. Mr Pout has written a book called The Alfonzo Story, which comes with the centenary replica.
He opened Teddy Bears of Witney in High Street in 1985, and also owns Aloysius, the bear which featured in the ITV adaptation of Brideshead Revisited in 1981.
Aloysius celebrated his centenary last year but was not used in the new film of Evelyn Waugh's Oxford-based novel because Mr Pout considered him too fragile.
Mr Pout bought the 25-inch bear for about £50,000 in 1996.