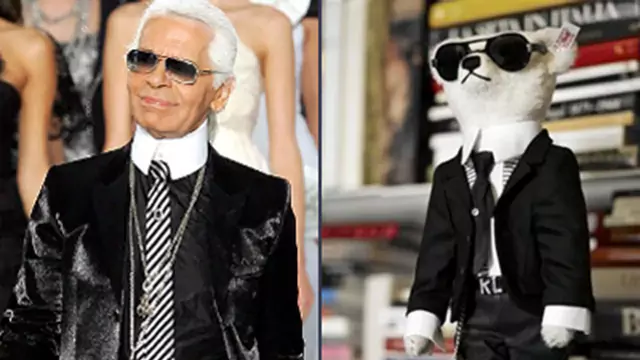 Karl Lagerfeld and "his" Steiff Bear
Dark glasses, black suits, white ponytail: Chanel top designer Karl Lagerfeld has long since turned from a mere designer into an icon of fashion, style and eccentricity. His unchanged appearance almost seems like a mask never taken off.
Nevertheless, on Sept. 10, his 70th birthday will arrive at least, according to the official version. "There even are people who say I will turn 75," Lagerfeld recently told reporters. The truth actually lies in between, he added.
Otherwise, he is unlikely to be touched by his upcoming anniversary. "I hate birthdays," he said. Although the same is true for retrospectives Lagerfeld likes to quote the Jewish saying "You don't get credit for the past," his timeless facade is worth a look behind.
However, Lagerfeld has given his blessing to a German company to make a high-style teddy bear modeled on the Paris based fashion designer. The bear will be exact in detail, right down to his white-collared shirt and jet black tie.
The Steiff company, which makes stuffed animals, will offer a limited edition of 2,500 at a staggering price of about $1,450.00 per bear. Lagerfeld has said in an interview, released by Steiff, that he had a teddy bear as a child and had picked the clothes and accessories to be featured on this bear, due for release on Sept. 15. The bear will be available through the company's website and in select stores.
Lagerfeld, who has been head couturier of high end fashion label Chanel for 25 years, started his glittering career from the down-to-earth surroundings of Hamburg's industrial upper class.
The many-faceted designer, who is also known for idiosyncrasies – like a love for mittens and a habit of wearing up to 26 rings at a time — recently announced that he soon would reveal the secret of his age.
His autobiography would tell the truth, he said. Nothing is known about the release date of the book. Lagerfeld, it seems, will remain a mystery as long as he chooses to.