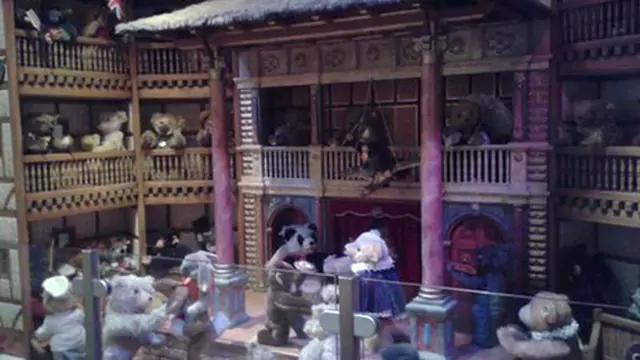 Globe Theatre Scene Has 50 Plus Rare Teddy Bears
Portsmouth, England
BBC News – March 16, 2013
More than 150 rare teddy bears have gone on display in Hampshire as part of a new exhibition on the history of the cuddly toy.
The free exhibition at Portsmouth City Museum features early examples of teddies as well as famous bears from books, films and TV.
The display includes a teddy version of Shakespeare's Globe theatre using more than 50 animated Steiff bears.
The bears are on loan from the V&A Museum of Childhood in London.
It is the first time the teddies have gone on display in the South and some have come out of storage to be put on show.
Julia Holt, from Portsmouth City Council, said: "The exhibition explores the history of the teddy bear from the first designs based on real animals to modern character and designer bears."
Some of the rare teddy bears at the exhibition date back to 1905, which are some of the earliest Steiff bears made.
The teddy bear was invented by the Steiff toy company in Germany in 1903 after producing cuddly toy animals such as elephants and monkeys since the 1880s.
Tracy Teasdale, from the Portsmouth City Museum, said antique teddy bears were rare because of their age and the "small numbers" that were made, adding that "most of them were cuddled to bits by children".
Local knitters from the Fratton Live At Home group have created 21 teddies for visitors to find on bear hunts around the museum.
The Teddy Bear Story is at the museum from 16 March to 15 September.